Electrifying the Economy: Tennessee's Big Push into Electric Vehicles
Editor's Note: This article was written by one of Area Development's staff editors on behalf of the Tennessee Department of Economic and Community Development, which approved and paid for this posting.
You could say that Tennessee is electrifying the automotive industry, and while it might be a bad pun, it's definitely no joke.
The most recent headlines came in October 2020, when General Motors announced plans to invest nearly $2 billion in its Spring Hill manufacturing plant to build fully electric vehicles, or EVs. One of the most prominent models that will roll off the line is an all-new Cadillac, the Lyriq electric crossover.
The plant will be GM's third American electric vehicle facility, the first outside of Michigan. The investment builds upon more than $2 billion the automaker has already invested in the past decade in Spring Hill, where Cadillac's gas-powered XT6 and XT5 models will continue to be produced.

"This nearly $2 billion investment represents the largest single expansion investment ever made in our state," Bob Rolfe, commissioner of the Tennessee Department of Economic and Community Development, said in making the announcement. The big investment builds upon an already strong Tennessee foundation in automotive production and pushes it toward the future.
"In our state, the automotive industry has been one of the greatest GDP providers, and today about 120,000 Tennesseans work for the automotive industry," according to Rolfe. That makes Tennessee the top auto-producing state in the Southeast in terms of employment.
From an economic perspective, these jobs pay big dividends. For example, the Center for Automotive Research estimates that GM's employment in Tennessee produces a 6.8 employment multiplier. That means every direct GM hourly and salaried job in Tennessee supports another 5.8 other jobs in the Tennessee economy, including work at some of the more than 900 automotive suppliers.
All the more reason to bank on the future of the automotive industry. "With transformation away from the combustion engine vehicle to the all-electric vehicle, Tennessee is at the forefront of this event," according to Rolfe.
In 2022, Volkswagen will begin assembling the ID.4 in Chattanooga, Tennessee. Photo c/o Volkswagen


And, according to Governor Bill Lee, it's only fitting for the state to be steering into the EV future. "Tennessee is committed to supporting the growth of advanced manufacturing, and in the automotive sector, the focus is on electric vehicles."
GM's big news arrived only a couple of months after German automaker Volkswagen unveiled expansion plans in Chattanooga to add the manufacture of EV cells and battery packs. The Tennessee site will host a laboratory where VW will develop and test cells and battery packs — the automaker hopes to have the lab operational by the spring of 2021. Not all automakers handle battery R&D in-house, but VW will, in Tennessee.
The cells and battery packs will power VW electric vehicles that will be assembled in Chattanooga. In early 2019, the automaker hailed an $800 million, 1,000-job investment for EV assembly in Tennessee, with production anticipated as early as 2022. The company already produces the popular gas-powered Passat in Chattanooga and is adding EV production to that.
In the fall of 2020, VW got more specific about its Tennessee EV plans, unveiling an electric compact SUV called the ID.4 that will be made in Chattanooga. Fittingly, the head of Volkswagen Group of America showed off the promise of electric vehicles by test-driving an ID.4 up the nearby scenic Signal Mountain.
Tennessee's significant moves in the direction of electric vehicle prominence were pioneered by Nissan, which has an assembly plant at Smyrna. That plant has been producing the all-electric Nissan Leaf since 2013, and the factory has helped Tennessee land a major place on the EV map even before production of Cadillac Lyriqs and VW ID.4s begins. Right now, only Michigan and California make more electric vehicles than Tennessee, and Tennessee is still just getting its batteries charged, so to speak.
Beyond the assembly operations, automotive supplier Denso is betting big on Tennessee as a player in the EV business. Denso is a major supplier for Toyota, Honda, and others, and it has invested a billion dollars into production of EV products and systems at its operation in Maryville. It's in the business of advanced safety, connectivity, and electrification products for hybrid and all-electric vehicles.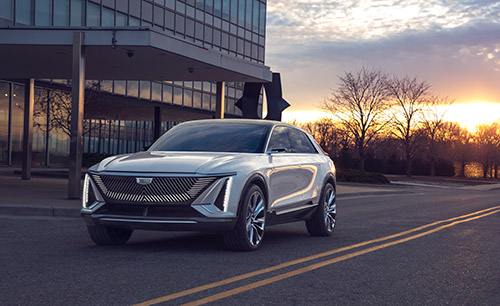 General Motor's Spring Hill facility will produce the new Cadillac LYRIQ electric SUV. Photo c/o GM

Healthy for the Tennessee Economy

Manufacturing of EVs and the components within them is clearly healthy for the Tennessee economy, and more than enough reason for state officials to be big on EVs. But, as it happens, there's also a big interest in getting EVs on the road for environmental reasons. The state does well in rankings of air quality, for example, and boosting the use of emission-free vehicles will help the air stay clean for years to come.
That's a driving force behind Drive Electric Tennessee, a consortium of organizations and individuals who want to see electric vehicles thrive in Tennessee, according to Ryan Stanton, senior consultant for strategic energy initiatives with the Tennessee Department of Environment and Conservation.
"The Tennessee Valley Authority, Nissan, Bridgestone, and Denso have all contributed. We also have a number of really great universities — Vanderbilt University, Tennessee Tech, the University of Tennessee — and electric utilities who have really all coalesced and focused around one goal. That is, to get more electric vehicles on the road in Tennessee."
Drive Electric Tennessee is involved in the legwork that will help support EV demand, which in turn will help support the growing EV production sector. The group's Electric Vehicle Roadmap spells out projects and initiatives aimed at increasing EV adoption. And it is working on such things as assessing the EV charging infrastructure, a key to increasing EV use.
In one more sign of the commitment to electricity as a fuel of the future, General Motors is quickly driving down the path of solar energy power for its Spring Hill operation. The Spring Hill manufacturing plant is GM's largest facility in North America, and the company expects that by late 2022 it'll be 100 percent powered by solar energy. The TVA is supplying the plant with sun power from a solar farm in Lowndes County, Mississippi, and the progress in Tennessee will help the company move toward its goal of using entirely renewable energy at all company-owned sites within a decade.
GM's multibillion-dollar investment into building EVs in Tennessee fits right in with that broader context. As part of the announcement, Gerald Johnson, GM executive vice president of Global Manufacturing, connected the dots: "These investments demonstrate how committed we are to an all-electric future, and how we are investing in our communities and our employees to achieve that future by working together."